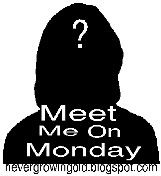 Joining my friend, Java, for yet ANOTHER "Meet Me on Monday." (Replacing the old tea parties for me!)
Sooo..
The deal is - click on the face to the left, link up. Then write a new post and answer the following questions. Make sure to go back and visit as many of the blogs as possible - and as always, it is sooo important to actually leave comments!
If you are new to my blog - just click on the about me and best of portion!
Now - to answer the questions:
Questions:
1. Do you eat Sushi? H to the E Double L - No. Sorry, I don't. Does that make me untrendy? Sorry. I DO NOT LIKE TRENDY and I tend to roll my eyes at people who claim to like it and I watch as they pick at it. It is right up there with the Cosmo craze back in the day. (Which BTW - I was drinking Cosmos loooong before they became "trendy.") However, if you really, REALLY like Sushi - awesome. I don't. Don't shoot me. :-)
2. What kind of bath soap do you use? OOOh - I am a bath soap snob! I love french milled soap. Right now I am using a bar with the Mediterranean Sea scent. Yes, I am a bar girl. I do like one liquid kind by Tone and it is White Clay & Jasmine. But.. the liquid kind causes the tub to get oily, and I am not a fan of slipping and falling!
3. How often do you talk to your Mom?
Daily if not every other day. Always the same - we end up arguing. Still. 37 years later. LOL
4. What TV shows do you watch on a regular basis?
I am a new convert to "The Tudors." But I really love Dances with the Stars, Survivor, What Not to Wear, Sex & The City, True Blood, Jerseylicious and Jersey Shore. Oh yeah - I will admit - I loved the Real Housewives of New York. lol TRASH - I know.
5. Did you start Christmas shopping yet? Yes! I am almost done. 4 more presents to go. I want to knock it out before my thrifty husband flies back from Egypt!!!!
Okay - your turn!
PS - Welcome!