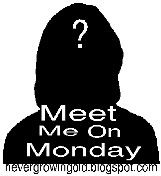 Once again I am linking up with Java and her friends for the "Meet Me on Monday" blog hop. It is a great opportunity to showcase your blog as well as meet other writers. I always find new blog to read from time to time.
If you are interested in linking up - click on the silhouette to the left.
You have to answer the five questions below.
As for my answers, check them out, and before you go, especially if you are new to my blog - check out the tabs above (About Me, Best of, Recipes, etc.) If you like what you see - then click FOLLOW on the google followers. Or if you prefer, click on the FB fan page.
Now for my answers:
Questions:
1. What is your favorite way to eat chicken?
Well, if I have to eat chicken, I like it one of two ways - Chicken Tandoori (which I have an excellent recipe for this in the recipe tab) and I like Chicken Wings (honey mustard or garlic Parmesan.)
2. Have you decorated for Christmas yet? Yep. Guilty as charged. But remember, I live in a small space - so it only took 2 hours!
3. What is your favorite article of clothing? My absolute FAVORITE piece of clothing (or outfit) is definitely not something I wear outside - it is my yoga pants and grey Tshirt. Nothing more comfortable and makes me feel soooooo happy.
4. Do you pay your bills online or write checks the old way? A little of both. Mainly online. Only rent and sometimes my car payment by check.
5. Do you make Christmas cookies? Never. However, I have graciously accepted an invitation to a friend's cookie exchange party. (EEK!) I have to make 4 dozen cookies. Honestly, I have NEVER baked a cookie a day in my life. I made scones for the first time today. Sort of a practice round. PS - I need an easy, yet delicious cookie recipe!! I am excited for the cookie exchange, but terrified I will screw up!
Hope you enjoyed this little hop. If you are new to my blog and want more - I welcome you! :-)