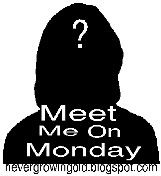 It's back! Meet Me on Monday Blog Hop!
Visit my friend Java's page to link up! (Or click on the pic to the left.)
If you are new to my blog - check out my About Me tab at the top!
Okay.. now I must answer the following questions:
Questions:
1. How many pillows do you sleep with?
Seriously? A LOT. I have 5. Two flat pillows, 1 firm, 1 super soft, and one memory foam.
2. Where will you eat on Thanksgiving? Here! In my apartment. (Birmingham.) My parents, sister and niece will be joining me! Very excited about their visit - it's been over 2 years since my parents last visited.
3. Would you rather go to a party or host a party? Host! I am the hostess with the mostess. As long as $$ is not an issue, I can throw one heck of a party!
4. How many purses (for the guys..wallets) do you own? LOL - well over 30. Maybe 50ish. It's a weakness.
5. What is your favorite kind of seafood? Specifically - there is a restaurant in Savannah, GA called Bernies on River Street - fried shrimp stuffed with cheeses and dip in ranch.
YUMMMM.
That's it! Make sure to catch my Christmas Project post. (That's another link up - if you are interested!)
PS - So nice to meet all of you! Check out my Blog Roll for some of my FAVORITE bloggers!