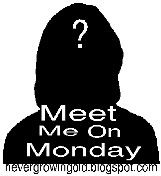 It is the "Meet Me on Monday" Blog Hop with Java! Click on the pic to the left for directions.
For now, the only requirement is to answer the following questions.
If you are new to Destination: Unknown - make sure to scroll down and read at least one or two blog posts. Leaves some comments and definitely google connect with me as a friend or FB "Like" the fan page!
Now... for Java's questions:
Questions:
1. Do you have any New Year's resolutions? YES! As a matter of fact - you can see the post about 4 posts down! But one thing you need to know, I have adopted a theme word for the year - and my word is TRUST. Got any advice on learning to trust more?? :-)
2. What food item are you craving right now?
Mac & Cheese - always. I LOVE my mac & cheese.
3. When is your birthday?
February 16th - I will be 38.
4. What were you doing an hour ago?
Writing my blog post about my journey to the beach for New Year's. You have GOT to check it out. It was one for the books... lol
5. Last thing you cooked?
Was last Thursday and it was a buffalo cheese dip.
You need:
1 cup wing sauce
1 cup blue cheese dressing
1 8 ounce carton of soft cream cheese
1 small bag of shredded cheese
1 can of chunked chicken.
Get a casserole bowl -
spread the cream cheese on the bottom
Mix the sauce/dressing/ and shred up the chicken a bit and mix together.
Pour on top.
Sprinkle Cheddar on top.
Put in oven at 400 for 20 minutes
Dip your chips!!
Happy New Year!