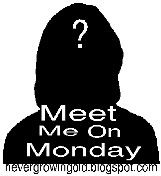 Java is inviting us to join into her blog hop! Here is what she says about "Meet Me On Monday" :
Welcome to the 33rd edition of
"Meet Me On Monday!"
Blogging is a funny thing...we tell our most intimate thoughts for all to read and yet most of the time I find myself sitting and wondering, "who is this person!?" I know them...but yet I don't know them! I want to know who the person is behind all those words so I thought of a great way for all of us to "meet" each other!
So time to answer her questions:
Questions:
1. What do you put on your hot dog? Without a doubt - mustard, ketchup and lots of onions. I LOVE hot dogs. My favorite hotdog of all time is a
Nuway Hotdog
. You can only get them in Middle Georgia.
2. Do you play Sudoku? Uh... no. Doesn't it involve math? Count me out. Numbers are not my thing. Unless it is my paycheck. :-)
3. What is your favorite vegetable? A Potato. Maybe it's the irish in me, maybe it's the starchy goodness.. but I love them. Not to sound like Bubba from Forrest Gump - but I like them: boiled, fried, peeled, steamed, scattered smothered and covered......
4. Do you color your hair? Ummm.. yeah. I do. Guilty as charged. Once every 6 weeks. If not, I would be salt & pepper. I am totally serious. I am a lot older than you may think. ;-)
5. What is your favorite brand of clothing? Hmm.. well, if I were super skinny and had a few extra zeros in my bank account.. I would love Prada, Dolce & Gabbana.. but for now, I will stick with my tops from DKNY, and my jeans from LEI. My two favorite articles of clothing are one of each. :-)
Okay.
Want to try this? Link up, answer the quesitons. But before you leave - drop me some comment love and click that little tab on the right under google friend connect.
THANKS!