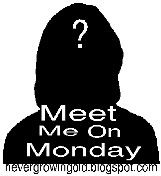 Happy Monday! Yes, it is that time again - time to join Java and the rest for "Meet Me On Monday" blog hop.
Hope you enjoy my answers! (If you are new - take a look around, read the about me - click follow on Google friend connect!)
Questions:
1. How do you order your steak?
Medium Well. I really like a good Prime Rib! (I rarely eat steak, maybe 3 times a year, tops.)
2. Are you superstitious about anything?
Yes, I will not open an umbrella inside, break a mirror, tell my dreams before breakfast, etc. Read my post on Superstitions or my experience with the paranormal.
3. Who is your best friend (not including your spouse)?
I have a few I would consider my closest friends (these days.) This does not mean "all time" best friends, but people who have the 411 on my inner workings - Telisa, Crystal, Lynn, Julie & Keli. (Telisa and I have known one another since we were 12. She lives in Warner Robins, GA. Crystal & Julie live in Birmingham, Lynn lives in Tampa, Florida and Keli lives in Jackson, Mississippi. Yep - they are spread out!)
4. When is the last time your wore a dress (for the guys...a suit)?
Thursday. I wear skirts/dresses/ball gowns/cocktail dresses quite often for work or play.
5. Do you have any trips scheduled? Just a quick trip home for the holidays. I was eye balling a quick getaway to either Nashville or Chattanooga for a romantic get-a-way. Still trying to decide.
Okay - if you are interested in linking up and joining in on the blog hop - just click on the picture above and link up. Follow the instructions.
Thanks for stopping by!