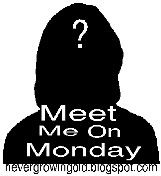 BLOG HOP day! Meet Me on Monday!
You know the drill - check out my answers - then link up by clicking on the weird silhouette thing to the left!
Questions:
1. What will your Christmas dinner consist of?
Luckily, I don't have to worry about that! I am having dinner at my parent's home in Georgia. Something very southern, and something very delicious.
2. Do you watch commercials or flip through the channels?
I watch most of them. Why? I was a broadcasting major and I know how to produce one. Also, I work in media relations and place PSAs. So - yeah, I check them out.
3. How long will you leave your Christmas decorations up? Southern tradition says you have to take them down before New Years for good luck.
4. What movie makes you cry every time you watch it?
The Notebook - the end scene, omg.
5. Do you have a Facebook?
Yes - I have my personal page & my destination unknown fan page
That's it folks -
Take a look around my blog and FOLLOW! Leave a comment if you are dropping by for the first time.