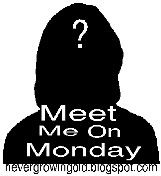 Blog Hop Time!
You know the drill - click on the pic to the left and follow the directions.
Since you stopped by - here are this week's questions:
Questions:
1. What are your New Year's Eve plans?
Honestly, I don't have any concrete plans. I have been invited to head down to Florida with a friend for one night, still waiting on the details - sounds like an excellent idea!
2. How tall are you?
I am a shorty - short meister. I am 5'1 3/4ths
3. What is your favorite pudding flavor?
Chocolate. Or butterscotch. I did always like a good butterscotch pudding cup.
4. What room of the house do you blog the most in?
Usually? My living room - sitting on my couch. Second place would be my bed, or the day bed in the sunroom - and finally, the toilet. LOL (joking)
5. What is your best physical feature?
Some say my eyes..
Okay - if you are stopping by for the first time, comment and/or follow!
Thanks for stopping by! Don't forget to look around! (Check out the tabs above) - rummage through the topics, most popular posts.. etc. Hope you come back around for more!